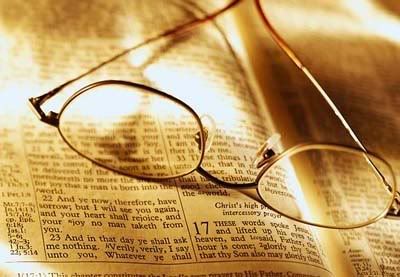 Today I'd like to give you typical steps to CRAM a book of the Bible. As I said in detail in part II, CRAM is an acronym for Character and Truth of God, Responsibility of the Believer, Attitudes and Actions, and Meditation. 
Here's what a day of CRAMming might look like for you:
1. Pray, asking God to help you gain understanding from your reading and to apply it to your heart.
2. Read the first (or next) chapter of the book being CRAMmed.  Apply the CRAM principles to the verses you have selected from your reading.  (I tend to take those verses that flow together.  Unless it is a small chapter, I don't attempt to CRAM it in its entirety!)
3. Taking each of the selected verses, look for the C contained in them.  Be sure to list those things you see that pertain to the character of God, or that pertain to the truth of God.
4. Next, go through the selected verses again, this time looking for the R contained in them.  You are looking for those examples of  the actions and attitudes of a believer.  Scripture is chocked full of examples of the godly path a believer should follow.
5. Now, repeat this process for A.  Remember, this time you are looking at yourself specifically.  While looking at those things listed in both C and R, what attitudes do you need to change? What actions must you take for your life to be on the godly path exampled in Scripture? It is important that you be specific. Changes should be tangible, sensible and specific. Grand visions are not often completed but step by step actions can be accomplished by God's grace. We want our changes to be God glorifying. In order to do this, we must fill any changes made to negative behaviors with positive behaviors. If you give up watching television during a specific time, you need to fnd something God glorifying to fill that time. You will easily gravitate back to the bad habit if you leave a void that will cause boredom.
6. Now it is time for M – Meditation.  While memory of scripture is not the goal of this portion, it is important to our walk as believers.  As you meditate on the scripture you have selected – as you read and re-read the chapters in the book you are studying – you may just find that God has freed your mind up and that you are memorizing verses!  Write down 1 – 3 verses from the section studied and place them where you will see the verses throughout the day.  If you have identified an attitude during study that you wish to have "set before you" for correction, you may want to select verses from other areas of the Bible that pertain to that attitude.  Writing these verses on 3×5 cards will give you a collection of God's word that you can review over and over. I have several spiral bound sets of 3×5 cards that I use somewhat like a perpetual calendar. I am lousy at memorization, but I have found this tool has really helped me in that area.
7. Pray, thanking God for His Word and for His grace and help to put off sin and to put on godly choices.
I pray I have given you some useful information that will help you in your study.  If this is too vague, or if you have any questions, feel free to comment or e-mail me and I will help you however I can. A day of my personal study of Psalm 119, using CRAM follows the continuation of this post. 
In Him,
R.
I chose Psalm 119 as my first book to cram for several reasons, the first being it is my favorite Psalm. I struggle with making time to be in God's word on a daily basis. It's not because I am too busy, it is [sadly] a heart attitude that God has really impressed upon me must go. Psalm 119 repeats, over and over, the theme of the importance of God's word. Although it is in the Old Testament, and speaks of God's Law, it is relevant to my life today. [And, I believe, to all believers!]
Psalm 119 is broken into chapters that reflect each of the letters of the Hebrew alphabet. Most of these chapters are small, and the verses flow together in such a way that I can CRAM an entire chapter. However, I broke the first chapter (of 8 verses) down into two days of CRAMming. I did this in order to have an opportunity to re-read each chapter at least one time during the study.
While you need nothing more than some notebook paper, a writing utensil, and a Bible, I find there are some things that are helpful for me. First, I have a Bible Dictionary and a Commentary handy. I also keep a New World Dictionary on hand, for words whose meaning aren't clear to me. Also, because of my bent, I went to the local $$ store and purchased some inexpensive, bound journals to do my CRAMming in. I like to keep things together for later reference. That same "A/R" trait is why I have the spiral bound 3×5 cards. I truly have 3 sets of them. If I have all the scripture I am meditating on together, my chances are better for memorization – plus, it comes in handy if I feel boredom coming on!
With all that said, here are my notes from my first day of CRAMming Psalm 119:
Psalm 119 – Aleph (v 1-8)
(*Read entire chapter, but CRAMmed only the first 4 verses)
C – Characters and Truths of God
blessed are those whose way is blameless
blessed are those who walk in the Law of the Lord
blessed are those who observe His testimonies
blessed are those who seek Him w/all their heart
His precepts are ordained
R – Responsibility of a Believer
keep way blameless
walk in His Law (God's will for the NT believer)
observe His testimonies
seek Him w/whole heart
follow His precepts diligently
A – Attitudes and Actions for me
In order to seek Him with all my heart, I need to stay away from those things that I allow to take up [waste] large chunks of my time.
     do not turn the TV on during the day, or before 7 pm on weekdays
     stay off the Internet until after quiet time and Bible study have been done
In order to know His precepts and His will, I need to be in His word daily
     set aside 1/2 hr prior to bedtime for meditation and journaling on/about how God has blessed my day
     be faithful in CRAMming through His word – allow Holy Spirit to work in you thru its example
M – Meditate
Today I will re-read verses 1-8 of Psalm 119, in addition to verses 9-16, which are 'Beth'
This is the scripture I wish to meditate on today:  Luke 1:46-47, Psalm 139:23-24 and Psalm 119:15-16
*Note:  I then wrote these verses out several times in my CRAM notebook, in addition to my personal reasons for selecting that scripture to meditate on.  I did the reading I had noted for myself to do, prayed, and concluded my CRAM for that day.  The next day, I read Psalm 119 – 'Beth' (v 9-16) again, then CRAMmed verses 5-8 from 'Aleph'.